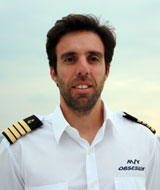 George Armogenis - Captain (Greek) Aged 31
Captain George was born and raised in Athens. He graduated from the Merchant Marine Academy of Aspropyrgos as Captain Class B and in a really short time, he received all the necessary qualifications which make him today a very capable captain. After this he made the decision to enter the area of yachting on private yachts and then after to charter ones. He is pleasant and energetic. Working closely with his guests and understanding their wishes, he can plan exclusive experiences and organize all types of activities onboard. He knows all the exclusive places of the Mediterranean Sea and he guarantees that your journey will be unforgettable, whether your desire is to visit trendy luxury resorts or to seek out the most secluded and unique ports of call. His free time he enjoys sailing, skiing and climbing. He promises that you will have a wonderful stay on our yacht. He speaks English, French and Greek.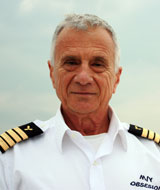 Ioannis Karaoglanis - Chief Engineer (Greek) Aged 68 
Ioannis was born and raised in Athens. He holds a B' Class Engineer Certificate and very quickly became head of the engine room going on voyages all around the world. Having experience on charter yachts, he sees to the smooth running of the engines with total diligence while helping at the same time on the deck. He is very hard working, meticulous and always ready to lend a hand. He has a pleasant and responsible personality, and ensures that every system works and is maintained to the highest standard for the safety of all guests. He can guarantee that your stay onboard will be comfortable and carefree. Ioannis speaks fluent English and holds licenses for water skiing and sailing instruction.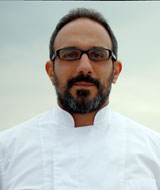 Alexander Georgiou - Chef (Greek) Aged 38 
Alexander was born and raised in Athens. He has the license of Cook Class A, holding diplomas and metals for his for his participation Poros Yacht show – Chefs Competition. More than ten years of professional cooking and kitchen management experience. He has a long established experience in five-star hotels like Astir Palace, Gourmet restaurants and luxury cruise yachts as an executive chef. He loves cooking and offering his talent to travel you through the culture and history of the Mediterranean Sea. You will be amazed with the colorful, vibrant tapestry of the Greek cuisine. His delicious and nourishing recipes will make your trip unforgettable. His hobbies are cycling, movies, music and reading. He speaks English and Greek.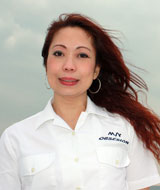 Judy Clemente - Stewardess (Philippines) Aged 42
She was born and raised in Philippines. In her work will do her best to make sure that your time on board is truly comfortable. She enjoys meeting and working with other people. She has a long time experience in crew service & customer service. Her international experience in Philippines, Taiwan and Abu Dhabi has taught her how to easily step into many roles, work hard and keep things looking at the detail. She brings a friendly smile and her hobbies are swimming, cooking and she loves all kind of sports. She speaks English.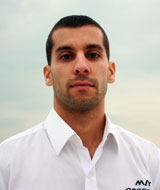 Fragoulis Orestis - Able Seaman (Greek) Aged 26
He was born and raised in Greece. He loves the sea and holds life and saving appliances. He has all the necessary certificates as an able seaman. He hopes to make you stay unique and is always on hand with a smile. His hobbies are swimming, all sea sports and motocross. He is always active and full of energy to motivate you in all sea activities. He speaks English and Greek.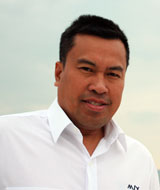 Gary Piramide - Deck Hand (Philippines) Aged 40
He was born in the Philippines and entered the world of the ocean at a very young age. He has graduated from a Marine High School in Manila and since then has worked on commercial ships as bosun while for the last eleven years he has been in the yachting field. Not only is he pleasant, hardworking and very responsible in his job he is also very careful with the safety of the yacht. He speaks English, Greek and Filipino.
Motor Yacht OBSESION is a 36,70m (120' 4") charter yacht built in 1990 by the well known and respected Baglietto shipyard. M/Y OBSESION received an Interior refit in 2006 and in 2007 benefitted from a change of teak deck and platform. Yacht OBSESION can accommodate up to 10 guests.